While the Packers not restructuring Aaron Rodgers' contract provided one of many Rodgers-saga highlights this offseason, they did adjust Za'Darius Smith's deal in order to create cap space. The Pro Bowl pass rusher is believed to be bothered by the fallout from this move.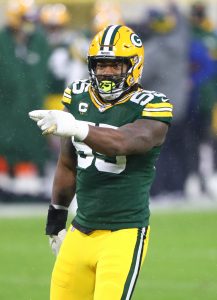 Going into his third Green Bay season, Smith is disappointed with his Packers contractual status, Mike Florio of Pro Football Talk notes. The Packers exercised an automatic conversion clause in Smith's deal in March, creating around $8MM in cap space after the team gave Aaron Jones a $12MM-per-year deal. Smith did not realize the implications of this clause, which allowed the Packers to convert base salary to signing bonus money without his go-ahead.
The restructure moved money onto next year's Packers cap sheet, and Smith is now set to carry a $28.1MM cap charge in 2022. That lofty figure increases the likelihood Smith will be a cap casualty or a trade piece, though given Smith's production and the fact his contract expires after the 2022 season, a Packers extension would seem to be in play as well. However, the soon-to-be 29-year-old rusher is also irked at the Packers for not paying out his new bonus in March, Florio adds. The team will instead pay it in installments throughout the season, making this new structure similar to a base salary.
The Packers are bringing back Za'Darius and Preston Smith for a third season, doing so despite the latter lagging well behind the former in terms of production. Za'Darius Smith has recorded 26 sacks in two Packers seasons — eight more than his four-year Ravens total — and has not missed a game. Rashan Gary can be controlled on his rookie deal through the 2023 season, giving Green Bay a talented trio of pass rushers.
Za'Darius' frustration comes at a turbulent time for the Packers, who have failed to patch things up with Rodgers this year. Green Bay's extension talks with Davante Adams also broke down this week. This will certainly be an interesting stretch for the two-time reigning NFC North champs.
Photo courtesy of USA Today Sports Images.