The Green Bay Packers began the 2021 season today looking like a club that never stepped foot on the practice field the las six weeks. This was an epic beatdown we've never seen the likes of in the Aaron Rodgers era. Saints coach Sean Peyton out-coached the Packers Matt LaFleur in every department. Can't wait to hear them explain this one away.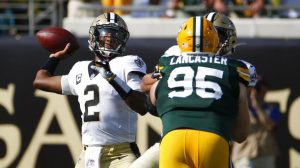 The first topic of discussion is did the Packers error by not playing any starters during the preseason. Players and coaches will certainly downplay it, but if that is not the reason the Packers sucked today we are in big trouble. It would mean that the new defensive coordinator is clueless. It would mean the offensive line minus David Bakhtiari and Corey Linsley is not very good, at all.
The game started out as a defensive failure but morphed into an offensive failure. The best player for the Packers was their new punter. I am used to seeing the defense get shredded by good teams with good offenses. But I'm not used to seeing the Packers offense so thoroughly inept. Rodgers looked more like Jameis Winston than he did a three-time MVP. Twice Rodgers just threw the ball up for grabs and twice he was intercepted. The first pick effectively ended any chance the Packers had to win the game.
Defense shows zero signs of improvement
Rodgers and the offense are going to have to get their act together quickly because I don't have any reason to believe the defense ever will. The Saints did what they wanted to, when they wanted to. The Packers' defense was absolutely powerless to stop them.
The Packers will have an extra day to stew about this as they play on Monday Night Football next week against the Lions. I have to believe we'll see a different team then. If not, an oh-and-three start is a real possibility with a trip to San Fran for Sunday Night Football the following week.
Obviously this isn't the end of the world. This isn't the NCAA, after-all. The Bucks were the third seed and they won it all. The Packers can and probably will recover from this. Maybe it will be a nice story when they are holding up the Lombardi Trophy next February. Or maybe not.
The post What the hell was that? appeared first on Packernet's View.