The Green Bay Packers played a little more inspired football against the New York Jets but still dropped a 23-14 decision. This preseason is definitely different than the NFL norm for the Packers. Against the Jets the Packers didn't even dress 32 players. So you really have to take things with a grain of salt. At least half of the players we saw Saturday night won't be on the team in a week.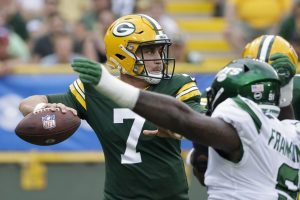 The star of the game for the Packers was quarterback Kurt Benkert. The young QB completed 18 out of 25 passes for 151 yards and TD and interception. He engineered a nice eight play, 75-yard touchdown drive in the first quarter. Then in the second quarter he led a 19-play, 96-yard drive that ate up 10:19 of possession and ended with a TD pass to Jace Sternberger. Much of that was done against the Jets first team on defense.
Has the NFL preseason given you the bug to place a few bets? Then finding a site with the best free bets is a good place to start. The season is just around the corner so get your research in.
A spot on the 53
The question now for the Packers is do they keep three quarterbacks on the roster again this year? Certainly the case can be made that Benkert has shown enough that he could come in and play if needed. I would prefer they keep him on the practice squad but that would risk him to waivers. He spent two years on the Atlanta Falcons' practice squad and they just lost backup quarterback A.J. McCarron for the year. They may pounce on Benkert if given the chance.
The Packers' offensive line played a little better as well but is still a work in progress. Against the Jets Jon Runyan and Royce Newman started and guard. Ben Braden, who had been battling Runyan, started at right tackle and played the whole game. That is the kind of versatility that earns you a roster spot on the Packers.
There really isn't much to say about the Packers' defense. I didn't know half the players out there. The defense hasn't exactly been impressive in two games but we'll see what happens when the starters line up week one in New Orleans.
One more preseason game in Buffalo next Saturday. Hopefully Jordan Love gets one more chance to show his stuff.
The post Two down, one to go appeared first on Packernet's View.