The Green Bay Packers will open up the preseason tonight against the Houston Texans in Green Bay after two days of practicing against each other. As preseason openers go, this one is all about the backups for the most part. But that is why I like them. You get to see guys fighting for the football life. And some of them may very well play a big part of the Packers' success should someone get hurt.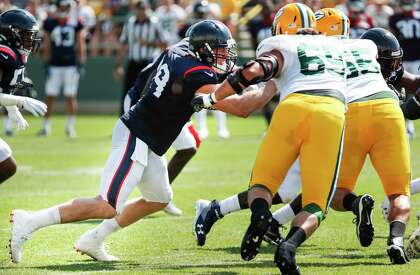 I like to watch these games to see what backups can do and who stands out and forces tough decisions for the coaches. Mostly these games are about the backup quarterbacks. Many sports betting sites around the world have the Packers back in the hunt for a title after the change of coaches. To do that obviously need a healthy Aaron Rodgers for most of the season. But the Packers need a reliable backup, something they haven't had for any part of Rodgers' career. Sadly, this year doesn't look much better.
DeShone Kizer and Tim Boyle are battling for the right to backup Rodgers and neither one look like they can play in an NFL regular season game. Kizer has some experience, but Boyle has the stronger arm. Maybe rookie Manny Wilkins will unseat one of those two. One thing is sure, they will have plenty of opportunities over the next four weeks to show what they can do.
Another area of interest to me is the offensive line. I can't remember the last time the Packers had any real depth on the o-line. And it's also been a long time since the line stayed healthy for a whole year. So I'll be watching to see how those guys do, because if they struggle, the offense struggles.
Running back and receiver should be fun positions to watch as well. I can't wait to see Dexter Williams run. I'm not an Aaron Jones fan, so I want to see this kid make a move up the depth chart. And at receiver can Jake Kumerow keep up his eye-opening play without doing something stupid again this year.
I love these games, you don't have to get nervous or worry about who wins, it's just guys fighting for a job. But still – Go Pack!
The post Things to look for in preseason opener appeared first on Packernet's View.