Aaron Rodgers wants out. Unfortunately for him, the Packers' GM says the star quarterback isn't going anywhere.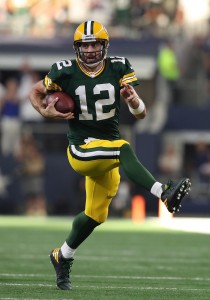 "No, we're not going to trade Aaron Rodgers," Brian Gutekunst told reporters after the first round of the NFL Draft (Twitter link via NFL.com's Ian Rapoport).
Rodgers and the Packers have been negotiating a new deal for months, but Rodgers has been unhappy with the nature of the talks. The Packers are reportedly seeking a restructuring of his deal that would grant them cap relief. Meanwhile, Rodgers is seeking a lucrative long-term extension.
The Broncos, 49ers, and Raiders were reportedly high on the QBs' wish list, but trade talks were a non-starter for Green Bay. Ultimately, the Niners stuck with the No. 3 pick they traded up for and used it on Trey Lance, but GM John Lynch admitted that he first tried to swing a deal for Rodgers.
"You're talking about the MVP of our league last year," Lynch said (via the San Jose Mercury News). "I don't know about you guys, but when the MVP of the league might be available — and I didn't know that, I'm just reading the tea leaves like everybody else and saying, 'Hold on, is something going on here?' Yeah, we inquired. And it was a quick end to the conversation. It wasn't happening."
"As we said, we've been convicted and excited for a long, long time, so we went right back to where we've been and that's really excited about adding Trey Lance to the 49ers and we're thrilled about that."