It appears an unprecedented agreement is on the horizon. Just a couple of hours ago we heard that Aaron Rodgers was telling those close to him that he planned to play for the Packers in 2021, and now we know why.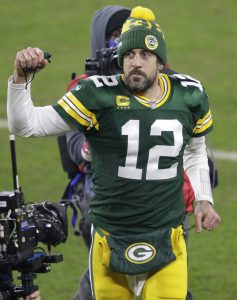 The two sides are "close to an agreement" that would ensure Rodgers plays this season for the team, but would "help set up" his "departure from Green Bay after this season," sources told Adam Schefter of ESPN.com (Twitter link). The Packers have offered "concessions" to Rodgers to get him to agree to play, but the new agreement will not include any additional money, Schefter tweets.
In return, Rodgers will "abandon plans he had to skip training camp and instead return for it." The 2023 year, the last one on Rodgers' current contract, would void as a result of this agreement, Schefter tweets. The Packers would then "agree to review" Rodgers' "situation at the end of this season" (Twitter link).
Schefter additionally reported that Rodgers' contract will be adjusted to keep him with the same income but increase Green Bay's cap space, and that "mechanisms will be put in place to address Rodgers' issues with the team." It sounds like this is setting up an incredible 'Last Dance'-esque situation, where Rodgers is playing for the Packers but everybody acknowledges his days are numbered.
Under this agreement, Rodgers would become a free agent after the 2022 season with the year getting voided. However, Schefter writes in a full piece for ESPN.com that Green Bay's agreement to "review" the situation next offseason "implies that the team will trade Rodgers if he still feels the way he has about the Packers' culture and decision-making." Schefter later confirmed in a tweet that the truce will in fact give Rodgers the "freedom to decide where he wants to play in 2022."
As such, it sounds like Rodgers will be allowed to leave after this season if he still wants to. It's bizarre and unusual all around, but perhaps also the only fitting conclusion to what has been a wild ride all offseason. We'll keep you posted as soon as we hear more.
Photo courtesy of USA Today Sports Images.