Packers wide receiver Davante Adams is listed as day-to-day, but his turf toe issue may require many, many days of recovery. When asked about his timetable for return, Adams didn't have much in the way of definitive answers, as Jim Owczarski of the Journal Sentinel writes.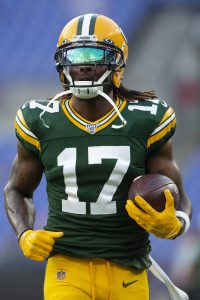 "We're just really trying to pace it at this point," Adams said. "I can't really tell you when I'm going to play. It doesn't feel how I want it to feel at the moment, but we definitely have time, so we'll just kind of play this thing (out), and I know Mr. (Matt) LaFleur will definitely be able to take care of any other questions regarding that."
Adams called it a "major injury," which raises major question marks about when he'll be able to get back on the field for the Packers. On the plus side, he does not believe he'll need surgery before the end of the season.
"There's things I can do, but we'll keep a lot of that in house right now," he said. "I can move around on it, but me moving around on it and feeling like it's feeling better that day or not in pain just sitting there is a lot different than having to break tackles and cut and release and things like that."
In 2018, Adams posted 111 catches and 1,386 yards. It was a major payoff for the Packers, who gambled by giving him nearly $15MM per year before he ever cracked four digits in receiving yards.
Photo courtesy of USA Today Sports Images.