While Packers President/CEO Mark Murphy recently made it clear that he wants Aaron Rodgers to stick around Green Bay, the executive isn't doing much to help his cause. During an event at Lambeau on Thursday, Murphy admitted that his star quarterback is a "complicated fella" (via ESPN's Field Yates on Twitter).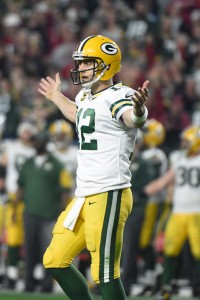 [RELATED: Packers' Aaron Rodgers Begins Holdout]
"I'm often reminded though…of Ted Thompson, as most of you know, just a great general manager, passed away (earlier this year)," Murphy said (via NBC 26 in Green Bay). "(Thompson) often talked about Aaron, that he's a… and it wasn't just Aaron, a lot of different players. He would say 'He's a complicated fella.'…So I'll just leave it at that."
That probably won't help, Mark. Rodgers officially began his holdout this week as the future Hall of Famer continues to push for a divorce. The reigning MVP wants to take his talents elsewhere, which would leave 2020 first-round pick Jordan Love or Blake Bortles as the No. 1 QB in Green Bay. Murphy, GM Brian Gutekunst, and head coach Matt LaFleur say that won't happen, leading to the current standoff.
During a recent column on the team website, Murphy noted that Rodgers trade request has divided the fan base, but he also noted that the organization is "committed to resolving things with Aaron." From a financial perspective, the Packers front office may be on to something. While Rodgers has already passed on $500K of bonuses by missing the team's voluntary workout (and he could lose another $200+ for skipping minicamp), the real financial toll will come when Rodgers starts missing games. In the unlikely event he stays home all year, the 37-year-old will forfeit his $14.7MM salary, $6.8MM roster bonus, and be forced to refund $23MM of his signing bonus.
Photo courtesy of USA Today Sports Images.