So much for the wakeup call in Los Angeles two games ago. Another trip west and another shellacking in California, this time with all the marbles were on the line. It was a complete beatdown that started on the second play of the game when Davante Adams was called for an unsportsmanlike conduct penalty after the Packers made a first down. That play started the negativity and it steamrolled from there.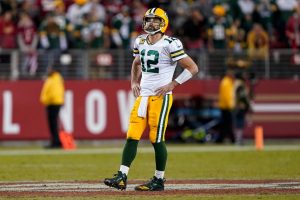 Yeah, that one play wouldn't have changed the outcome but it sure was stupid after two nice plays and killed the first drive that ended in a 49ers touchdown. It was another game in which the Packers' offensive line was beaten and beaten badly. Didn't help that Bryan Bulaga was lost early they were already getting manhandled when he went out. If the o-line can't play better against good defenses then the Packers are not going anywhere even if they make the playoffs.
The Packers' offense as a whole has struggled since Adams has come back from injury which is rather odd, to say the least. Instead of adding to an improving offense he has brought it down. The offense needs to get back to spreading the ball around instead of forcing it to Adams.
The Packers are going to have a hard time winning any of their remaining games if they can't figure something out on defense. Their two biggest weaknesses, stopping the run and covering the tight end are the easiest things for offenses to do against them. They don't even need a star running back or tight end, any Joe Blow will do.
If the Packers can beat the four patsies left on their schedule I think they will get the help they need to win the division. But after what I saw last night, that is by no means a given.
The post Didn't see that coming appeared first on Packernet's View.