Things are moving quickly in Green Bay. News about Aaron Rodgers has been flying in all afternoon, and now we have an update on another one of their star offensive players.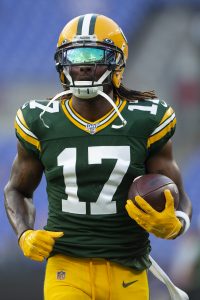 Just a few days ago we heard that Davante Adams had ended extension talks with the team, but with Rodgers back in the fold Adams is once again "open to a deal," Adam Schefter of ESPN.com tweets. Adams "now is willing to listen to any contract discussions the team would like to have," sources told Schefter.
Rodgers' agreement with the Packers will apparently give them some extra cap space for this season, potentially making it easier to iron something out with Adams. Just a few days ago NFL Network was saying things were "now in a bad place" between Adams and the franchise.
Apparently news of Rodgers' impending return has changed those circumstances, even though it seems like Rodgers could still be on his way out the door in 2022. Either way, it's another welcome development for Packers fans.
Arguably the top receiver in the game, Adams will turn 29 in December and is undoubtedly looking for one last mega-payday as he enters the final year of his rookie contract.
The Fresno State product will be seeking, and will almost certainly get, a record-shattering contract when the time comes. In a follow-up tweet, Schefter confirmed that the newly found cap space from the Rodgers agreement will be used to make another run at an Adams extension. Adams was a first-team All-Pro last year and has made the Pro Bowl four straight seasons.
Photo courtesy of USA Today Sports Images.