The Green Bay Packers came into this season with Super Bowl expectations and anything less would be a failure. The reasoning was they have the reigning MVP and the number one scoring offense in the NFL last year back intact. Throw in a new defensive coordinator who brings the Brandon Staley defensive scheme and a ton of juice and this Packers team might be the best since 1996.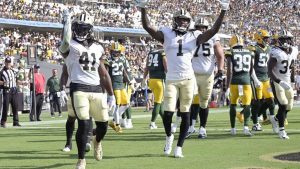 Until it's not. While I'm not too worried about Rodgers and the offense, I don't think the Packers defense will be any better. In fact I think it will be worse. All training camp we heard about the "juice" new defensive coordinator Joe Barry brings. Well juice don't mean shit if your scheme sucks, and everything we saw Sunday sucked. Maybe they will get better, but I thought we would see immediate improvement. After all, it was against teams like the Saints where the improvement was needed the most. Even more scary, Barry had six weeks to prepare for the Saints.
I hope you didn't bet on the Packers Sunday, you only would have lost by 40 points. Sports gambling may not be available yet in Wisconsin, but if you want more information like the latest news on state laws, CasinoGenie has it.
Preseason or no preseason
This was the first time the starters played together because of the insane decision by head coach Matt LaFleur to sit all starters in the preseason. That was fine last year when everybody missed the preseason and it was an even playing field. The Saints played their starters in the preseason and it showed. But I digress.
There isn't a lot reason to think Barry can turn this unit around. He is a two-time failure as defensive coordinator and the architect of the 0-16 Lions' defense in 2008. Nobody ever said this was a guy who's going to be coordinator soon. LaFleur took him after his failed attempt to lure Jim Leonhard away from Wisconsin. He should have went with one of his younger candidates but instead choose a retread with a bad record.
Moves like this get coaches fired. If the defense doesn't get better and the Packers don't make the playoffs LaFleur will be on the hot seat a year after back-to-back NFC Championship game appearances. I think the Packers are in deep trouble. My prediction of 12 wins is looking very shaky. But who knows, maybe this was just a happy accident.
The post Botched DC hire could spell doom for Packers appeared first on Packernet's View.