We heard earlier this week that the Packers offered Aaron Rodgers a two-year extension that would have made him the highest-paid player in NFL history. That report, from ESPN.com's Adam Schefter, was light on details, and as our Zachary Links suggested at the time, it's difficult to know exactly what kind of money Rodgers was really turning down.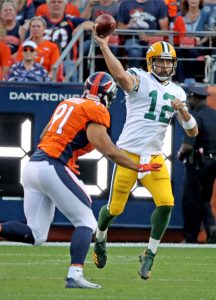 Mike Florio of Pro Football Talk offers a little more context. While Florio does not know the details of the Packers' reported offer, he does shed some light on what Rodgers is looking for. According to Florio's sources, Rodgers wants $90MM in guaranteed money over a two-year period. The $45MM average annual value would put him on an even footing with the Chiefs' Patrick Mahomes, but more importantly, Green Bay would have to structure the deal in such a way that it would have no choice but to keep Rodgers through at least 2022 and perhaps through 2023.
As it currently stands, Rodgers is signed through 2023, but the Packers could theoretically cut him next offseason and save $22.7MM against the cap. They'd be left with $17.2MM in dead money, but that wouldn't cripple them cap-wise, especially since the cap is set to increase next year. Jordan Love, with multiple years to go on his original rookie deal, would be significantly cheaper.
Although it has been said at various points throughout this saga that Rodgers is not necessarily motivated by money, the money that he's reportedly seeking would be one way to achieve his goal of leaving Green Bay when he's ready to leave, and not when the Packers deem Love to be ready to take the reins.
Between Rodgers and Davante Adams, the Packers are dealing with a lot of disgruntled star power. That is not a good place for any team to be in on the cusp of training camp, but especially a team that has a roster capable of contending for a title.
Photo courtesy of USA Today Sports Images.