The Aaron Rodgers saga may be nearing a (temporary) conclusion, and he isn't retiring. Green Bay's star quarterback has "indicated to people close to him that he does plan to play" for the Packers this season, sources told Ian Rapoport of NFL Network (Twitter link).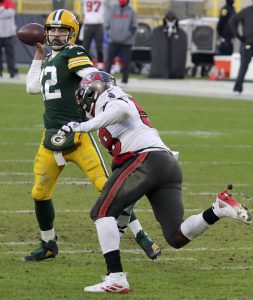 Rapsheet adds that it's "the expectation." It's not quite definitive, but it certainly sounds like Rodgers has made up his mind that he'll be running it back with the Pack for at least one more year. With Green Bay's steadfast refusal to trade him, Rodgers only had two real options. Show up soon, or retire. There were reports that he would seriously consider retirement, but they never rang true.
Rodgers is coming off one of the best seasons of his career, and since he'll turn 38 in December he can't afford to waste too many years as he chases an elusive second Super Bowl ring. Shortly before Rapoport's report, Packers GM Brian Gutekunst spoke to the media and said the team was still "hopeful for a positive outcome" with respect to Rodgers, Tom Pelissero of NFL Network tweets.
Gutekunst likely knew what was about to hit the news wire. While Packers fans (and head coach Matt LaFleur) will now be able to breathe a bit easier, the drama is far from over.
Rodgers' status will loom large all season, and things could go south in a hurry if the Packers don't play as well as they did last year. Either way, this will once again become a big issue next offseason at the very least. This feels like a band-aid solution, and Rodgers very well may demand another trade next year when he'll only have two seasons left on his contract.
For what it's worth, Packers president Mark Murphy spoke right after this report broke, and said he still didn't know whether Rodgers would be at training camp on Wednesday. But for now, don't expect to see 2020 first-round pick Jordan Love take the field anytime soon. We'll keep you posted as soon as we have any more clarity on Rodgers' plans.
Photo courtesy of USA Today Sports Images.