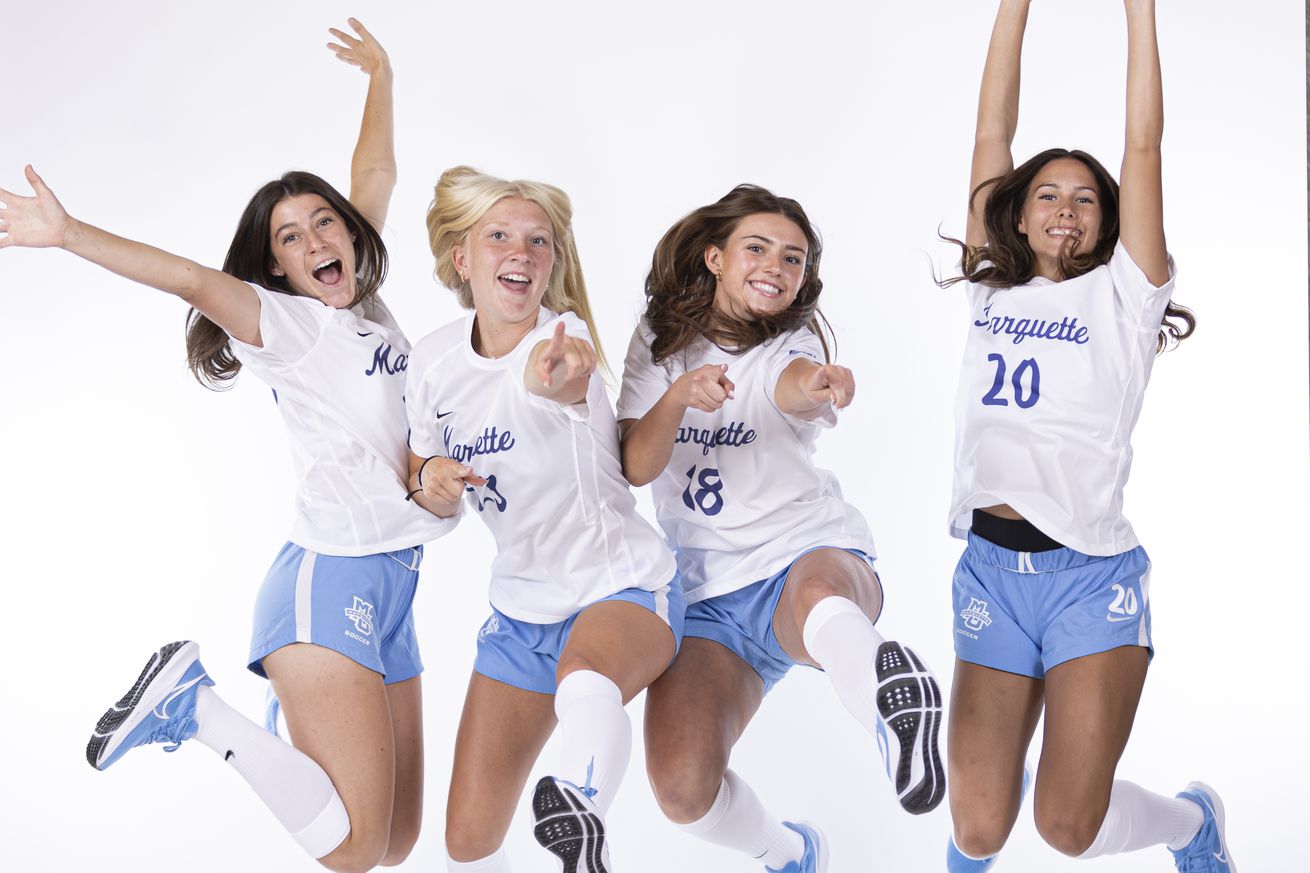 Head coach Frank Pelaez has eight first year players on his roster this season.
We continue to go flying towards the first day of the Marquette women's soccer season, and so, we continue on our season preview series. We've already talked about the returning players on the roster for head coach Frank Pelaez, now we're going to talk about the new faces that he has brought in for his fourth season in charge.
There are eight women that we'll be talking about here today, and all eight are freshmen. I don't know if we should be surprised that there aren't any transfers, particularly in the era of players having a bonus season of eligibility due to COVID, but that's the situation we're in.
Same as was the case with the returning players, we're going to start with forwards, move on to midfielders, and wrap up with defenders. We'll end there because there's not a freshman goalkeeper on the team this year. That's not necessarily a problem for this year's roster, but it's also not great for future rosters in terms of experienced goalie play.
That's a discussion for a future time, so let's get started, shall we?
FORWARDS
As usual, I'm mostly using the official Marquette team bios to help guide our discussion here. I find them to be incredibly useful when attempting to evaluate new faces in sports like soccer, because — let's be honest about it — there's just not a lot of local newspaper coverage of high school girls soccer, much less recruiting coverage. Finding out exactly what Marquette wants to highlight for individual players is pretty important for figuring out how they might just fit into the puzzle right out of the gate.
With that in mind, Taylor Schad (#24, 5'7", Kiel, Wisconsin) seems to have the clear advantage on early playing time out of the new forwards on the roster. She played just two seasons of prep soccer at Kiel High School, and, uh, it went pretty well. When your "down year" is a 61 goal senior season that ended with 1) your team winning a state title, 2) you breaking the record for goals in a title match with four, and 3) you breaking the record for points in the tournament with 12, I think we can say the two years were pretty good. Schad set a state record for goals (83) and points (193) as a junior, and so yes, that gives her 144 goals in just two seasons. If that remotely translates to goals in Division 1, Schad probably deserves to play a lot for Marquette right out of the gate.
Haley Christianson (#19, 5'4", Kenosha, Wisconsin) is no slouch, either. She picked up honorable mention all-Wisconsin honors as both a junior and a senior, totaling up 61 goals and 20 assists across those two years. She also earned a conference player of the year trophy as a senior. That's all good stuff. It's not "wait, did you just say 18 hat tricks in a season?" stuff like Schad, but it's still good. Worst case scenario, Christianson gives Pelaez and his staff another option to work with this season.
Relative to my point about working off the official MU bios, I get twitchy when I see bios like the one that's published for Marina Hill (#20, 5'8", Goodyear, Arizona). It's not that she's a bad player or anything like that, it's just weird to see a Division 1 forward recruit with absolutely zero mention of how much goal scoring she did while earning four varsity letters, that's all.
MIDFIELDERS
Much like we had to start the forwards with Taylor Schad, we have to start the midfielders with Kiley McMinn (#23, 5'8", O'Fallon, Illinois). It seems clear that she's the best recruit in the incoming class, because those are the things you say when McMinn is the only United Soccer Coaches All-American amongst the freshmen. AND she was the Gatorade Player of the Year in Illinois as a senior. AND she was the Illinois state coaches association player of the year. McMinn got all of those accolades by putting up 49 goals and 10 assists as a senior, but none of those 49 were more important than the game winner in the state title match. In double overtime. Of a 1-0 game. Against a Barrington team that was undefeated in 25 matches up til then.
Sometimes it's hard to evaluate midfield recruits from their official bios. That's kind of the case for both Madelyn Loucks (#16, 5'5", Sammamish, Washington) and Capri Oliviero (#18, 5'8", Neshotah, Wisconsin). It sounds neat that Loucks — who is officially a forward/midfielder on the roster) was a two time team captain and won a state title as a senior. It sounds neat that Oliviero won seven state titles at the club level with SC Wave here in Wisconsin. It's also not much to tell us about how they fit into the puzzle for Marquette…. but perhaps that just means that they're going to do a lot of playing in the middle third of the park and thus don't have much in the way of scoring output to show off.
DEFENDERS
I'm fascinated by Emily Fix (#26, 5'6", Gurnee, Illinois) and her positioning on the roster. She only played prep soccer for her junior and senior year after focusing on her club team before that, but this past spring, she was the offensive player of the year in her school's conference. Maybe that's just a situation of "most talented player in the league, but her best Division 1 fit is elsewhere," but that doesn't make it less interesting. If Fix, who is officially listed as a defender/midfielder, can play more of a wing defensive position and thus create chances up the field, that could help the Golden Eagles. After all, as we discussed with the returning players, MU does not have a strong returning defensive corps and it wouldn't hurt if a freshman stepped in and played over 1,000 minutes this season.
We round out the show with Carly Christopher (#4, 5'8", Park Ridge, Illinois). The Maine South product didn't play prep soccer at all, instead spending her time with Chicago FC United at the club level, including a top 10 ranking in 2021. I am curious about the ongoing trend of not playing for your high school team but instead playing only for a club team in that setting during high school. It's probably better for your development as a soccer player, as the clubs can effectively create high school all-star teams, but I don't know if it's actually good for children — Capri Oliviero won seven club state titles, so we're talking about back to when she was 11 or 12 years old at least — to get that invested in that kind of high intensity system.