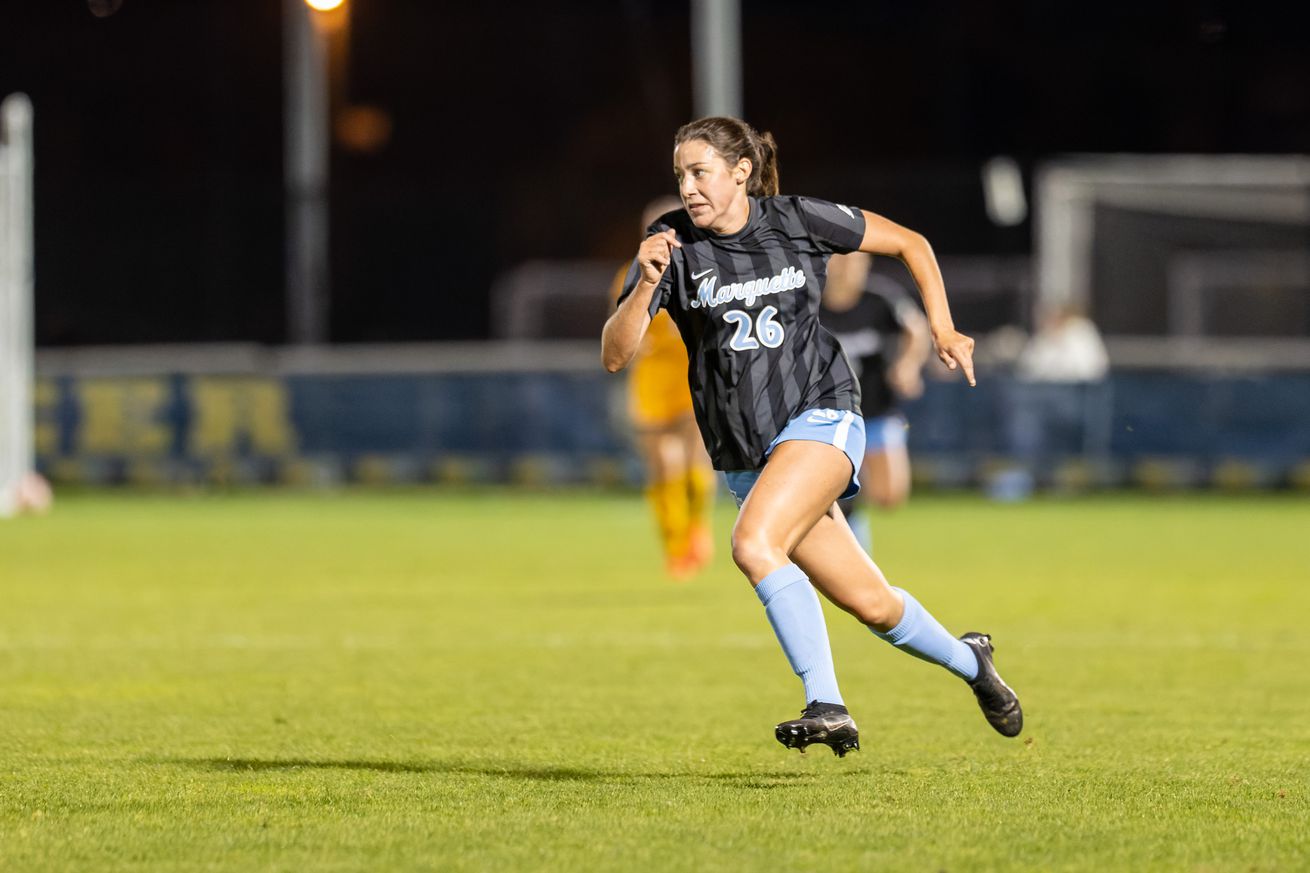 A quick flurry of action in the first half provided all of the scoring on Sunday afternoon.
When your first eight matches have gone the way that things have gone for Marquette women's soccer, you have to try to find the upside to things. The Golden Eagles went into their non-conference finale against St. Thomas with a record of 3-4-1 on the year and just four total goals scored against 11 allowed.
So, when the Golden Eagles walked away from Senior Day (no, I don't know why it was in mid-September, but it was, oh well) with a 1-1 draw against St. Thomas, you kind of have to say "hey, y'know, what, there's things to like here."
One of those things is not how St. Thomas took a lead in the 25th minute. Marquette lost possession of the ball right in the middle of the park, maybe 30 yards from the net. A quick bit of dribbling from Mariah Nguyen brought her right to the top of the box, and she launched in a shot past Mikki Easter, back from her one game red card suspension.
One of the things you can like is how Marquette responded to that sequence. They responded nearly immediately, 91 seconds later to be precise.
What a textbook play from the Golden Eagles. Maggie Starker makes the cross, and Emily Fix heads it back the other direction to make it hard for the goalie to catch up to it. That was the very next play that made it into the play by play after Nguyen's goal, so you can't really do much better than that when it comes to bouncing back from giving up a goal.
The question then became how the Golden Eagles would deal with the remaining 64 minutes of the match. After all, up to that point, St. Thomas was outshooting Marquette 5-2, although the UST goal was their first shot on frame of the match. Item #1 on that list is this fact: St. Thomas didn't register another official shot for the entire rest of the first half. Item #2: Marquette outshot the Tommies 7-3 in the second half, and they forced UST keeper Olivia Rowe to make three saves to keep the match level.
Up Next: As mentioned, this was the non-conference finale, so that means nothing but 10 matches of Big East play from here on out this season. That starts this coming Thursday at 7pm Central when Marquette welcomes DePaul to Valley Fields, and it continues on Sunday when Butler comes to town for a 1pm start. The Blue Demons are 4-2-1 on the year after beating Northern Illinois 1-0 on Thursday night, while the Bulldogs are 4-4-1 and unbeaten in their last three contests. BU will open league play at #21 Xavier before coming to Milwaukee.